CONTENT WRITING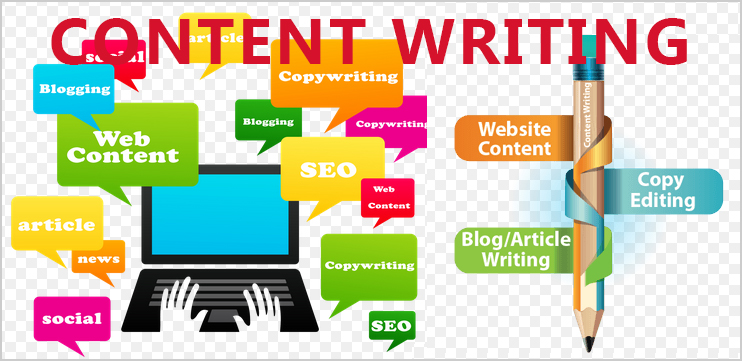 Every Website has a specific target audience and requires a different type and level of Content. Content should contain words (key words) that attract and retain users on a website. Content written specifically for a Website should concentrate on a specific topic. It should also be easy to read, offering the information in easy to understand clusters or laid out in bullet points
Writing Content for your Website can be a challenging exercise - especially if you're not accustomed to doing a lot of writing.
We at K3webcreation.com bid our Premier and Economical Web Content Writing Services in Mumbai, India to a whole gamut of industries and sectors. We stand as one of most sought after Content Writing Company in India with a load of successful assignments and projects under our belt. We boast of a team of Web Content Writers who are well aware of the latest transitions in the working sectors and develop Fresh and Unique Content with considering the shifts parameters.
Today, more than ever, Websites need Informative Content that is Engaging, Compelling, Creative, Reader-Friendly, and Original. Original so Google will rank your Website and its Content, and Original for your readers.
Write About Stuff That Matters
Before jumping into Writing Content for a Page, you want to make sure you have a good idea what the main topic of the page should be and that the topic is relevant to your users. To ensure the content is relevant to users, ask yourself:
What information does a user need to know about a given topic?
What keywords would that user use if they were looking for this information?
Start With an Outline:
Writing Website Content can quickly seem overwhelming, but if you break it down into smaller parts, it becomes more manageable. Before doing any serious writing, create an outline by following these steps:
Start with your main idea.
Break down sub ideas.
For each sub idea, write out the pieces of information that you want to get across.
K3webcreation.com has time tested models of developing Web Contents which are tailor made to meet the needs of various industries and our developers stress on specific requirements of business across different industry verticals. According to the varying needs and preferences of an industry, we organize and structure our Contents and we have different set of writing modules for different industries.
As a top notch name in the domain of Content Writing Services in India, K3webcreation.com comes with a definite strategy and action plans to create a structure in which the Contents will flow. Our Skilled and Experienced Web Content Writers are resourceful enough to make you get the right balance in terms of the flow of Content in a very Website. We make not only your Content rank high in Search Engine but also you make your Contents highly readable. We stress on SEO Copywriting to ensure that your Contents are Keyword Specific and scores high on Search Engine Optimization Results. Our Contents are so wonderfully created and compiled that they reflect the expertise and knowledge of our team of writers.
As one of the Pioneers of Content Writing Company in Mumbai, India, we understand the fact that the long a visitor sticks to a particular Website the chances of getting business out of him/her becomes brighter. The advantage of Keyword Specific Web Contents is that they drive home best of the SEO Results and makes your site visible in the webbed world of web. We, at K3webcreation.com provide best of the Content Writing Services in Mumbai, India and strive to attain the Clear, Concise and Crisp Content for all the sectors and purpose and aim to provide our visitors a broad picture of your products and services. The most important thing on your part is to comprehend your subscribers about the advantages and facilities of your services and how you stand apart from the crowd. Once the comprehension part is over, there is every possibility that prospective buyers will be more interested to subscribe and utilize your things.
Content Writing is the number one cause of delay for launching a New Website, so we use the following tips to help streamline your Content Writing Process.
AT K3 WEB CREATION GET THE WEB CONTENT FOR:
WEBSITE PAGES
Get originally written Website Pages, SEO-Optimized and Editor-Checked. Order for one Website or multiples.
BLOG WRITING
We'll create SEO-ready, high quality daily or weekly Blogs. Get individual posts or ongoing monthly packages.
ARTICLE WRITING
Invest in 100% Original, Copyscape - Checked Articles. Reader-Friendly and SEO Optimized.
LANDING PAGES
Get local or global with Landing Pages. High quality, 800+ word Landing Pages for all your services.
META CONTENT
SEO-Optimized, Well-Written Sentences for your Meta Descriptions and Titles. For Websites, Blogs, etc.
CONTENT AUDITING
Our Content Strategists will find incorrect or missing content with thorough Audit Reports for your Website or Blog.
CONTENT PLANNING
Get your Content brainstormed by our Strategists. Ongoing and fundamental planning packages available.
PRODUCTS DESCRIPTIONS
Engaging, SEO-Optimized Original Content for your product descriptions.
SALES PAGES
Sales Pages for your affiliate marketing site, new product, and much more. SEO-Optimized and Sales-Focused.
TOPICS
Start from the ground up with engaging, Creative Titles for your Blogs and more. Crafted 100% original.
Our Web Content Writing Services rely on Creative Copywriters: meaning your Content will be Original, Researched, Well Written, and Professional. Besides having our Expert Writers create your Content, you get the careful eyes of our staff editors on your content. If you still see any issues with your Content, the revision is on us.
So, get in touch with the Best Web Content Writing Servicesin Mumbai, India, we are pleased to provide you Content for your Online Brand to date, in all niches.
CONTENT WRITING